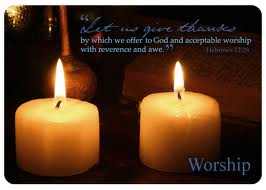 Sing (acappella singing only)
Eph 5:19: Speaking to yourselves in psalms and hymns and spiritual songs, singing and making melody in your heart to the Lord.
Heb 13:15: By him therefore let us offer the sacrifice of praise to God continually, that is, the fruit of our lips giving thanks to his name.
Prayer
1 Tim 2:8: I will therefore that men pray everywhere, lifting up holy hands, without wrath and doubting.
Acts 2:42: And they continued steadfastly in the apostles' doctrine and fellowship, and in breaking of bread, and in prayers.
Lord's Supper
Acts 20:7: And upon the first day of the week, when the disciples came together to break bread, Paul preached unto them, ready to depart on the morrow, and continued his speech until midnight.
Matthew 26:26-28: And as they were eating, Jesus took bread, and blessed it, and brake it, and gave it to the disciples, and said, Take, eat; this is my body. And he took the cup, and gave thanks, and gave it to them, saying, Drink ye all of it; For this is my blood of the new testament, which is shed for many for the remission of sins.
Give
1 Cor 16:1-2: Now concerning the collection for the saints, as I have given order to the churches of Galatia, even so do ye. Upon the first day of the week let every one of you lay by him in store, as God hath prospered him, that there be no gathering when I come.
2 Cor 9:6-7: But this I say, He which soweth sparingly shall reap also sparingly; and he which soweth bountifully shall reap also bountifully. Every man according as he purposeth in his heart, so let him give; not grudgingly, or of necessity: for God loveth a cheerful giver.
Hear God's Word
2 Tim 3:16: All scriptures is given by inspiration of God, and is profitable for doctrine, for reproof, for correction, for instruction in righteousness.
2 Tim 4:2: Preach the word; be instant in season, out of season; reprove, rebuke, exhort with all long suffering and doctrine.
~