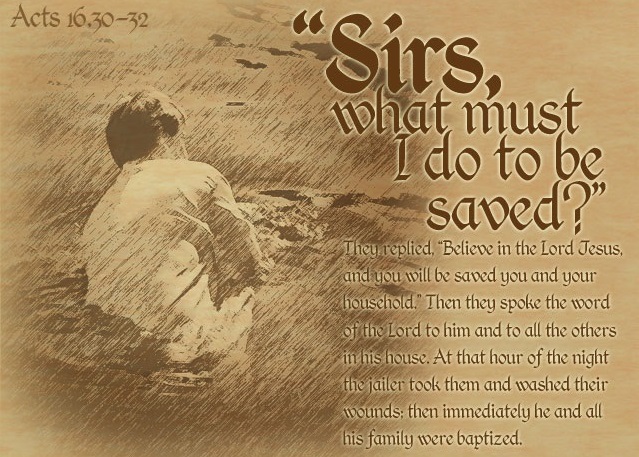 "What must I do to be saved?" is a question that all mankind should ask of them. Only the Bible has the correct answer to that question. There are so many manmade doctrines in the world today. Should we believe man or Jesus? The Bible tells us in (Matt 28:18), "And Jesus come and spake unto them saying, All power (authority) is given unto me in heaven and in earth." The scriptures have declared that Jesus has all authority. He has instructed and commanded all mankind on what to do to be saved. Salvation has nothing to do with feelings (emotions), but it has everything to do with obedience. "Though he were a Son, yet learned he obedience by the things he suffered; and being made perfect, he became the author of eternal salvation unto all them that obey him; (Heb 5:8,9). We must obey Jesus' teachings in order to be saved. That is......
Hear the Gospel: "It is written in the prophets, And they shall be all taught of God. Every man therefore that hath heard, and hath learned of the Father, cometh unto me" (John 6:45).
Believe the Gospel: "I said therefore unto you, that ye shall die in your sins: for if ye believe not that I am he, ye shall die in your sins" (John 8:24).
Repent: "And the times of this ignorance God winked at; but now commandeth all men every where to repent" (Acts 17:30).
Confess his name: "And Phillip said, If thou believest with all thine heart, thou mayest. And he answered and said, I believe that Jesus Christ is the Son of God" (Acts 8:37).
Be Baptized in water: "Buried with him in baptism, wherein ye are risen with him through the faith of the operation of God, who hath raised him from the dead. And you, being dead in your sins and the uncircumcision of your flesh, hath he quickened together with him, having forgiven you all trespasses..." (Col 2:12-13).
The gospel of Christ is preached, the willing will believe the gospel, repentance is accomplished, and baptism (immersion in water) is administered. The blood of Jesus cleanses the baptized believers of their sins and then the Lord adds the saved to the church (Acts 2:47).